Pre-Emergent Herbicide - What is it? When To Apply it?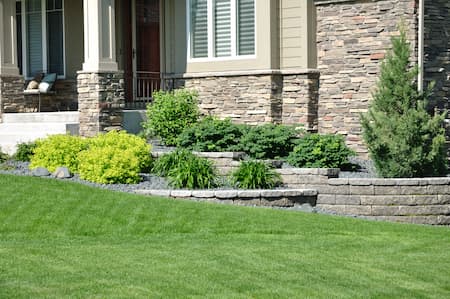 In weed control and fertilization, as well as in other areas of life, many times, it is easier to prevent a problem from starting rather than to resolve a problem that has already escalated. In lawn care, this is very true in weed control. For example, it is much easier to prevent crabgrass from germinating than to eliminate existing crabgrass that is growing and healthy. This is why a pre-emergent herbicide is so important. Keep reading to learn more about pre-emergent herbicides, how they work, and when to apply them!
Pre-Emergent Herbicides & When To Apply Them
So what is a pre-emergent herbicide? To put it simply, it's a product that works to stop weeds very early in the germination process. Since a pre-emergent has the purpose of stopping the germination process, the pre-emergent should be applied before the time of year in which the targeted weeds germinate.
So when should you apply your pre-emergent herbicide? This important question depends on where you live. In warmer climates, summer weeds will naturally germinate earlier. Here in the Trussville area, you should apply and water in your pre-emergent herbicide by mid-March. As stated at the beginning of the article, it is much easier to handle summer weeds like crabgrass before they germinate rather than after they become established. This explains why lawn care companies are hard at work while the grass is still dormant.
Chances are, if you see a lawn early in the year with many weeds, then that lawn was not treated with a pre-emergent in the fall. If you see a lawn with many weeds during the summer, there is a good chance that the lawn was not treated with a pre-emergent early in the year.
Let Our Pros Take Care Of Your Lawn
Alabama Lawn Pros, LLC is committed to helping your lawn look great by controlling weeds as well as helping your grass grow thicker and healthier. Our detailed fertilization programs include two pre-emergent applications in the spring targeting summer weeds, as well as one pre-emergent application in the fall targeting winter weeds. The good news is that if your lawn has weeds this spring, our application also contains a post-emergent herbicide targeting existing weeds. This combination of pre-and post-emergent herbicides will be an important step toward helping your lawn reach its full potential.
Alabama Lawn Pros, LLC provides weed control and fertilization services to Trussville and all of the surrounding areas. We are locally owned and operated and would be happy to come out and discuss your lawn care needs with you. We stand behind our work with a satisfaction guarantee! Whether you are a weekend warrior handling our own lawn care or would like us to handle it for you, make sure to get your pre-emergent down by mid-March.
GIVE YOUR TRUSSVILLE LAWN CARE EXPERTS A CALL TODAY! YOUR YARD WILL THANK YOU!